Mitigate Risk with 3D Construction Inspection Services Verification
Digital construction verification helps ensure that work progresses efficiently and as designed in a way that traditional spot checking can never accomplish. Darling Geomatics offers construction verification using the most advanced 3D scanning equipment and software available, Our state-of-the-art technology allows us to verify 100% of your construction in the time it takes you to check 5% to find mistakes before they become expensive problems. 3D verification streamlines workflow by enabling virtual collaboration between all of your team members. It allows you to accurately verify the work of subcontractors or to identify variances to the as-designed plan in near real-time so that you can react quickly to potential delays or reworks that can drive up costs. Partner with us to mitigate risk with our new 3D Construction Verification service.
New Standard in Best Practices
Advances in 3D scanning technologies and data analysis software have set a new standard in intelligence for facility owners, architects, engineers and contractors. We can now show you in 3D exactly where and how much your building varies from design.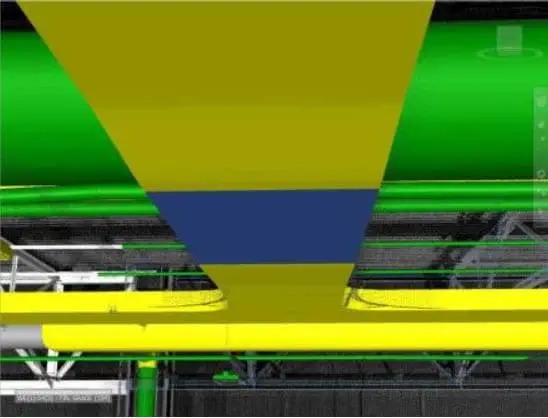 See It for Yourself
Above is an example of 3D construction verification inside a 1.25 million square foot manufacturing plant in the southeastern USA.
Green objects are within tolerance.
Yellow objects are out of tolerance.
Blue objects are comparisons being processed at the moment this image was captured.
Schedule a Demo
Contact us to schedule a short demo of our 3D construction verification.