Darling Geomatics worked with the construction firm to scan 1.5 million square feet of an expansion at the Mercedes-Benz U.S. International (MBUSI) automotive plant in Vance, Alabama. The building construction was recently completed with most equipment not yet moved in. Documenting actual placement of new construction was a way to accelerate project turnaround, reduce rework during equipment installation, and provide a 3D digital record for ongoing maintenance and operations.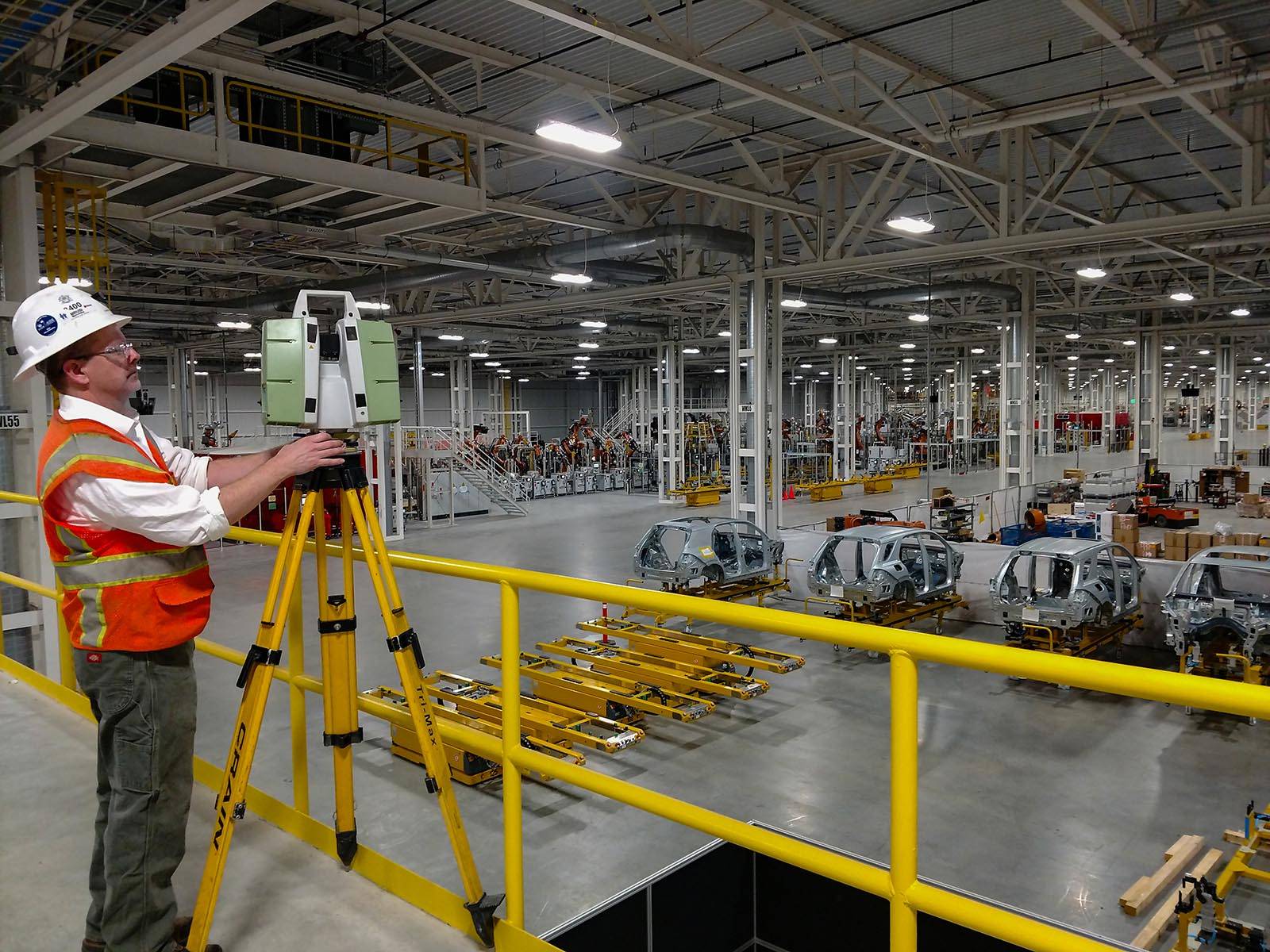 Project: Digital As-built of Mercedes-Benz US International automotive plant
Client: Gray Construction, a nationally-ranked engineering, architecture and construction firm with nearly 60 years of experience in manufacturing, automotive, distribution and retail facility construction.
Project Location: Vance, Alabama, US
Industry:  Automotive manufacturing
Application: Construction verification
Technology Used: Ground-based LIDAR using Leica Geosystems C10, P20, and P30 laser scanners,  Leica Cyclone and ClearEdge 3D Verity software
Deliverable:  Digital 3D as-built model and 3D Digital Comparison of Design to Actual Construction
There were two primary challenges:
Size with 1.5 million square feet of floor space, ductwork, conduit, and some pre-installed equipment.
Short time window of 8 days to complete all onsite scanning
A 4-person crew, who complied with all safety protocols and had thousands of hours of scanning experience, used 3 ultra-high speed Leica Geosystems LIDAR units on Darling's proprietary customized wheeled tripods. These scanners bring excellent data quality and accuracies while also being highly portable and quick to set up. The team used Leica C10, P20 and P30 scanners for range, accuracy, and speed. The P20 was used for tighter spaces. The C10 was the best choice for the longer shots used to get onto the local coordinate system. All three scanners were up to the task, gathering billions of accurate points that all registered precisely.
In 8 days, the team scanned billions of points from 920 setups, including shots to interior and exterior control points to keep the scan data on the same coordinate system as construction. All the data registered into Leica Cyclone data processing software to produce the 3D as-built model.  The data was then exported to Verity software for comparison to the Navisworks design model that was provided by the general contractor.
Darling Geomatics' 3D as-built model was used to compare to Navisworks design models to verify that all major construction components were within specification of 0.5 inch and less consequential elements, like lighting, were within 2 inches of design. Onsite scanning was completed in 8 days with additional  data processing and analysis to complete the project.