3D Scanning Identifies Clash Detection Early in Large Scale Manufacturing
Modern shipbuilding occurs at a massive scale, coordinating millions of parts, thousands of connections and hundreds of tons of materials. When large sections have to be joined together as one, 3D clash detection is a must to avoid costly interferences — saving time and money – and to be able to deliver on schedule.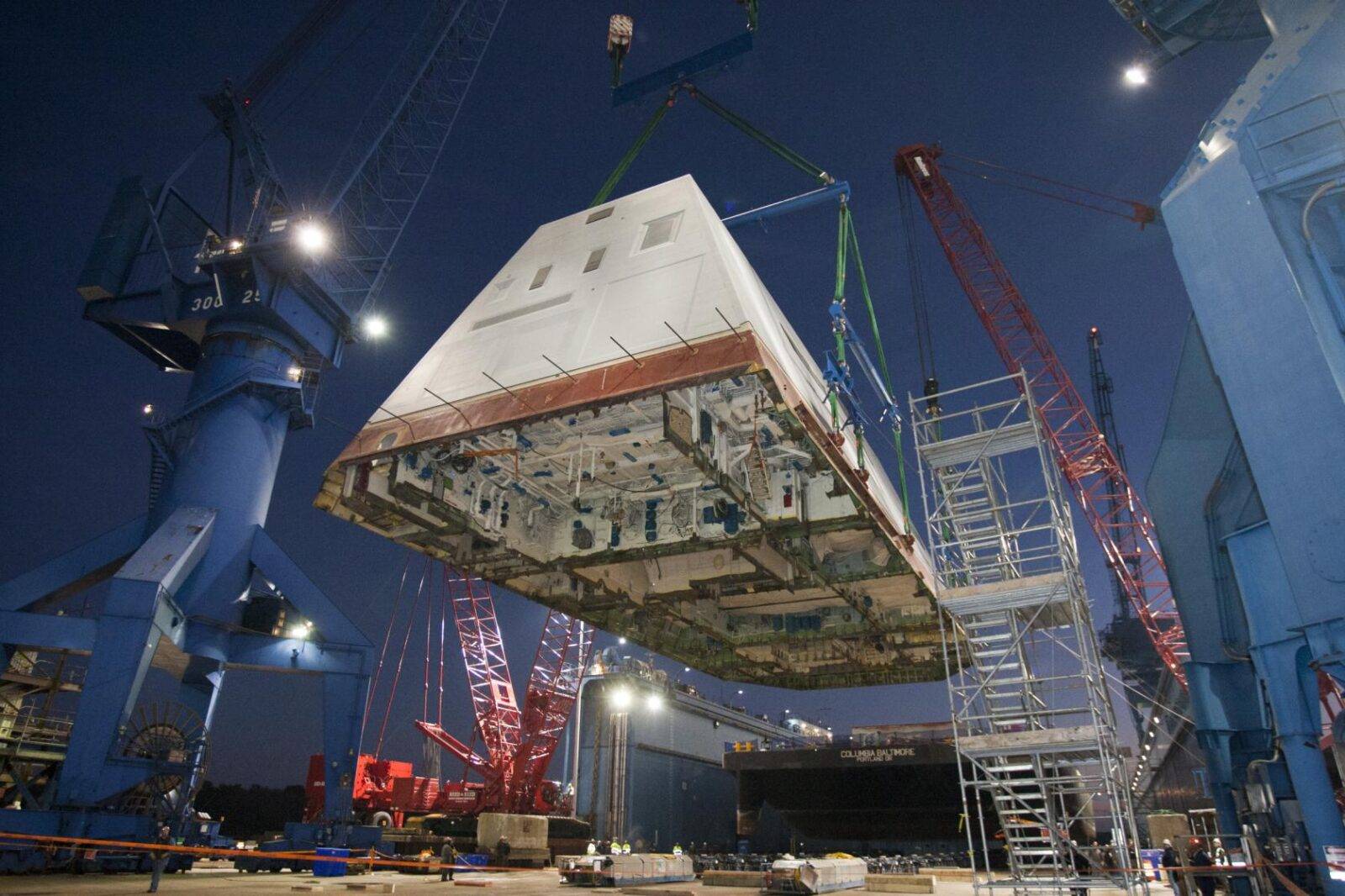 Creating an accurate digital twin from 3D scanning is a crucial first step in many manufacturing, construction or renovation projects, and even more so for projects at a massive scale. Using the point cloud from terrestrial LIDAR, potential clashes can be identified, reviewed and resolved — before further work is attempted. Resolving potential clashes early prevents unnecessary costs and problematic delays in delivering a finished product.
Using traditional blueprints to coordinate billions of data points leaves unacceptable room for error, putting safety and accuracy at risk. At the massive shipbuilding scale, it's essential to secure repeatable and measurable 3D data that is accurate and reliable. LIDAR delivers 3D scans that meet all of these requirements and helps streamline complex construction operations, especially for large scale projects.
Project: Navy Ships - Clash Detection during Destroyer Construction
Client: General Dynamics Bath Iron Works (GDBIW)
Project Location: Bath, ME
Industry: Manufacturing
Technology Used: LIDAR
Deliverable: Point cloud + real-time clash detection analysis
Accuracy: +/- 0.2 inch/4 – 6 mm
GDBIW was charged with the complex responsibility of joining pre-built deck houses (built and shipped from Mississippi) to the Navy destroyer hulls built in Maine — on the first attempt.
Welders and shipfitters demanded precise and accurate data to execute this work successfully. After careful review, it was agreed that utilizing real-time 3D digital twins of the hulls and deck houses would provide the necessary data to avoid any potential clashes during the final assembly.
3D digital twins of the bottoms of the deck houses and tops of the hulls were created by Darling Geomatics, using LIDAR. The resulting real-time 3D scans and point clouds provided the essential data for the shipbuilding teams to virtually analyze potential clashes and resolve these issues before further work. The 3D digital twin data was instrumental to the successful shipbuilding of several US Navy guided missile destroyers from GDBIW.
GDBIW estimated the savings that were realized from using real-time 3D digital twin data:
$500,000: including safety and savings of $50,000 per crane per hour cost
$200,000: savings in wages of pipe cutters, metal cutters, welders, safety team and others